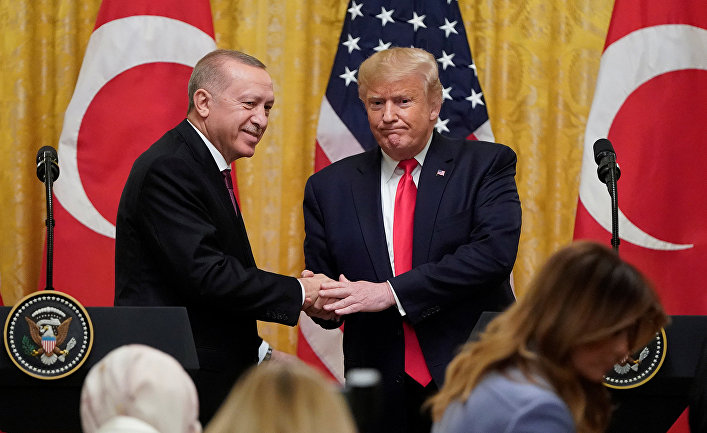 In recent years, Turkey has turned its back on the West. It came to a very sharp skirmish between Turkish and Western leaders. Take Erdogan's assaults on French President Emmanuel Macron. Recently he even advised the French to quickly get rid of the "burden" of the current French leader. That is, he called for his overthrow, or, in the language of Washington, decided to interfere in the French elections.
The recent sharp skirmish at a meeting of NATO foreign ministers between US Secretary of State Mike Pompeo and Turkish Foreign Minister Mevlut Cavusoglu made a lot of noise in the Western media. The outgoing Pompeo decided to slam the door loudly and criticized Turkey for stirring up tensions with its allies in the Mediterranean Sea, and indeed making gifts to Russia in the form of a purchase of the S-400. Cavusoglu did not remain in debt and accused the United States of supporting Kurdish "terrorist organizations" in Syria. And also that "the USA and France have aggravated the conflict in Nagorno-Karabakh by supporting Armenia."
Turkey with its aggressive foreign policy ambitions creates the basis for the formation of an anti-Turkish bloc of Western countries. The United States and France are already ready to tighten sanctions against the aggressor. Other western states are gradually joining them. As a result, among the 30 members of the Alliance, Turkey remained practically isolated.